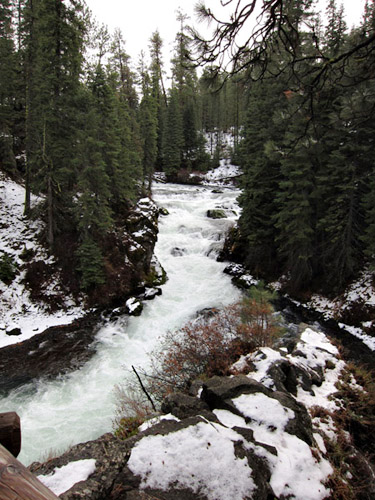 With the shortening days, the sensitivity of the emulsion I've been working with since last spring has been steadily falling. In July, at sea level, the emulsion was in the ASA 25-40 range, depending on time of day and subject. In late November, I was lucky to get 6-12 at the Newport docks.
Higher elevation was considerably better. Over Thanksgiving I took artisan film to 4200 ft for the first time. The weather was horrid — dark clouds and always spitting a combination of rain and snow. Absolutely perfect to stay by a warm fire with a book, of course, but a bit lacking for photography. Still, I came away with an image I like and and a couple of good lessons.
Colorblind emulsions have too much going on to make absolutist pronouncements about sensitivity. Time of year, elevation, time of day, weather, and subject matter all play a part. I think I got about a stop more speed at 4200' than at sea level. At Benham Falls, I exposed for the trees and figured the water could fall out where it wanted. 12 sec at f/16 delivered, although a bit more exposure wouldn't have hurt. I only made one other bracket, at 8 sec and f/16. That exposure would have done in a pinch, but barely.