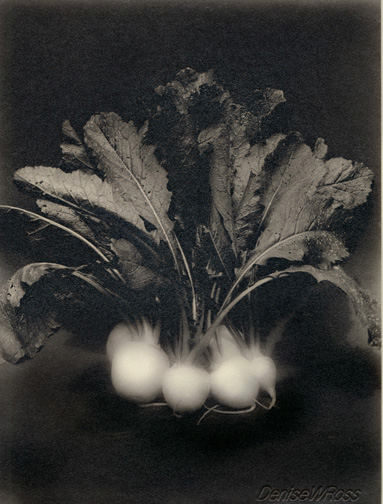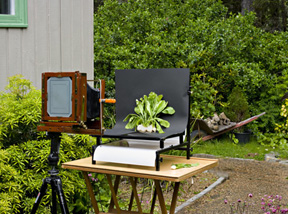 On the left is 'Turnips', contact-printed on handmade paper (here) with the addition of a digital contrast-control mask.
Below, left: A straight print with no masking was too flat for my taste. I could have tried a higher contrast developer. I certainly could have made a higher contrast emulsion. But, easiest of all was to make a digital mask (below, right).
I scanned the plate on a flatbed scanner and in Photoshop lightened the image considerably — determined by a great deal of experience, I'm afraid. (I didn't even think to record the numbers. Sorry! ) I resized from 6.533" x 8.161" to 6.486" x 8.111", applied a 1.0 Gaussian Blur, and printed on Pictorico OHP with an Epson 2400. I carefully registered the mask with the plate (top side, not emulsion side) laid the emulsion surface of the paper against the emulsion side of the plate and exposed and processed, including selenium toning.