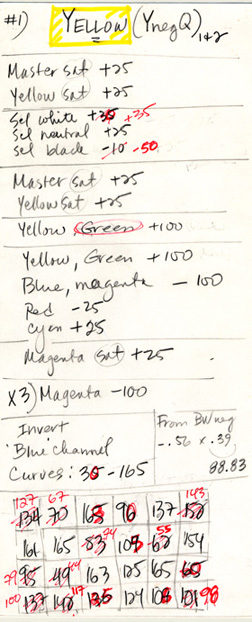 Light Farm Method for Color Separation Negatives


I work in Photoshop CS2, with just two color management tools — 'Saturation' and 'Selective Color' — in addition to 'Curves', 'Image Size', 'Invert', and 'Channels'. I haven't taken the time to become familiar with any of the many other available programs, but I have to assume similar tools are available in all of the more recent releases and updates.

***I will be delighted to publish any and all articles about your silvergum experiences with other programs.***

On the left is the worksheet I used to develop the yellow layer for my latest color set. I wrote down a baseline set of numbers in black, and then, working from the ColorChecker chart, selected for the Y-channel (i.e. Blue), I recorded the 'Info' number for each block. (In CS2, 'Info' is a tab in the same window as 'Navigator' and 'Histogram'.) I made a card like this for each color. As I printed each successive layer of color I judged the color balance on the prints and determined the necessary adjustments. I recorded the changes in red pen, including the 'Info' values. Note that 165 is the largest number in any block. That's because it's at the top of the curve I set for Yellow. Using an exposure test strip, I determined that any higher a number (i.e. thinner density on the negative) would result in dichromate burn.

Old-fashioned testing coupled with observation is unavoidable (Thank goodness! It's a lot of fun.) If you are willing to go beyond a paint-by-number approach, you will be able to customize — quite easily — the negatives and color set for each individual image.

For each separate color layer, print your color checker print with the corresponding color separation negative created from the baseline numbers. Set your exposure time for just under the time it takes for the highlights to develop a dichromate burn that won't wash off. Traditional gum advice would have you adjust contrast by changing the ratio of dichromate to gum. Since we are working with digital negatives, it makes far more sense to adjust the negatives with the 'Curves' tool. This allows us to standardize pigment/gum/dichromate solutions for a given exposure time. All the adjustments take place in the choice of color set components and with the negatives, giving us near-perfect control. For example, in the Yellow card illustrated here, I found that I had to bring the 255 point down to 165 to prevent burn. I changed the density numbers of the color blocks by adjusting the '0' point. In this case, changing the '30' to '35' decreased the yellow exposure of a number of the colors. This becomes important to any subsequent colors that are blends with blue or magenta (i.e. the various shades of orange and green). We're aiming for balance.

For any image, for any technical or artistic reason, you can adjust the amount of any color component in any layer. Below is an example, 'Aquarium Village Pirate'. It was my first seriously attempted silvergum print. I went on a deliberate search for the right picture to experiment with and found this guy. I was looking for an image that was fun enough to look at over and over as I worked. I wanted plenty of fine detail to practice registration, a full range of strong colors, and a density range from bright highlights to deep shadows. On the left is the original digital file (Pentax K20), in the middle is a 3-color print, made with one of my first sets of color separation negatives. On the right is a print made with a slightly different b&w negative, using my current 5-color set and separation negatives. A couple of steps in a couple of separation layers made most of the difference. And, although not all images need five colors, most seem to benefit.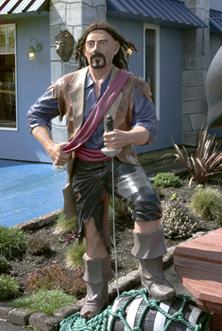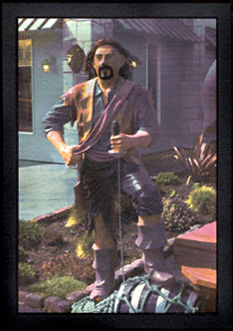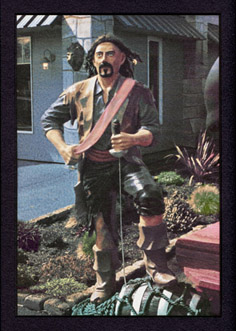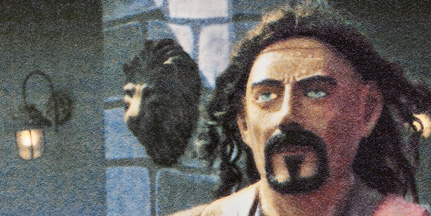 I know that the first reading of this concept may seem as clear as mud. Unfortunately, no amount of words on a computer screen can substitute for hands-on experimentation and experience. If things don't seem intuitive now, please be assured that they will be. As soon as you start printing, if you commit to consistent work habits and good notes, you'll be a color separation maestro in no time. I promise.
Finally, here are three more controls that make all the difference to the final print, two digital and one pure old-fashioned hands-on craftsmanship:
1) 'Selective Color' for White, Neutral, and Black. These controls let you play with the color temperature of your highlights and shadows. My favorite baseline numbers give a little warmth (yellow) to the highlights and remove it from the shadows. I try to keep the shadows on the blue side. This is the control that made most of the difference in the final version of the pirate. I pulled the magenta and yellow out of the shadows by going '-50% Selective Black' in the magenta and yellow separation layers.
2) 'Image Size'. Watercolor paper changes size as it goes through successive wetting and drying cycles. It doesn't change the same amount in both directions, and the size paper you use determines the total shrinkage per print. Silvergum seems to shrink more than traditional gum prints (at least on Fabriano Artistico HP watercolor paper). This is the real advantage of digital negatives. Go to 'Image Size' and de-select 'Constrain Proportions'. Change the height and width independently to match the negative to the paper shrinkage. The only way to determine your numbers is through experience combined with a consistent workflow. Remember, you will need to flatten the dry prints after each color layer. You can use a dry mount press, followed by cooling under a flat weight, or you can sandwich a print between two clean sheets of poster board and use a clothes iron (no steam), followed by cooling under a flat weight. See the previous section for more information about registering your negatives before coating.

One advantage of working from a Gretag chart is that the little printing at the bottom of the chart makes determining registration sizes very easy. You can plainly see, down to the fraction of a mm, how much the size is off from one layer to the next. If you are making your own chart, you might consider including something that you can use as a registration target. It can be simple. Right now, I've got a piece of junk mail on my desk. It's shiny stock paper and has the words ' Buy Today, More Time to Pay' in white text over a black background. I could cut out that line and tape it to the bottom of my homemade chart.
My workflow goes like this: I keep the same paper and make the same size emulsion path (4 inches by about 6 to 9 inches long. Once I had determined the best 'silvergum' settings on my camera, I've never changed them. This makes all the difference for keeping things consistent. The settings I like are auto white balance, lowest contrast, and 1+ saturation. I shoot in RAW and always bracket, so I can choose the best histogram without a lot of manipulation. I resize the image file to 3.5 inches high by whatever length that proportions out with. I save that file as 'Prime'. Then I make six additional identical files, saved as PrimeNegative, PrimeYellow, PrimeBlue, PrimeMagenta, PrimeCyan, and PrimeRed. Always work the b&w negative or color layer from the appropriate file. That way you can redo any of them as many times as necessary without risking messing up the registration sizes or losing color information. For Fabriano Artistico HP, my dog-eared and coffee-stained Post-it (now taped to my monitor) says, "Prime = length x 3.5in/88.9mm, BW neg = +0.7mm x +0.3mm (i.e.89.22mm), from BW size, Y neg = -0.56mm x -0.39mm (i.e. 88.83mm), from Y neg size, B neg = -0.05mm x -0.7mm (i.e. 88.76mm), from B neg size, M neg = -.01mm x -0.04mm (i.e. 88.72mm), C neg and R neg and all subsequent negs = M neg size."
3) Selective color removal during development. Gum prints are developed in plain water. The prints are placed face down on the surface of the water and left lying, without agitation, for 10 minutes each in four successive trays of cool water. (The hotter the water, the more gum will be dissolved, so water temperature is a variable to control if you want predictable results.) The gummy color washes more or less off, determined by the amount of exposure it received through the differing densities in the negative. Areas that got a hard exposure won't wash off at all during development. If you have set the top point of your curve correctly, you will get beautiful, clean color without a hint of orange dichromate burn. Areas that got less exposure will wash off at any time between the first and the last bath.
For every negative, there is a 'tender' area, a narrow range of densities near the highlight range. The exposed pigment in this density range will stay on the print if you are very careful to avoid all agitation during development, or it can be selectively removed — one more technique for creative control.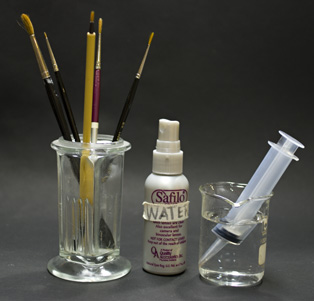 Progressively aggressive removal techniques range from gentle-to-vigorous agitation in the water trays, to misting with water (a little bottle that originally contained lens cleaner works perfectly, just make sure to clean the bottle well before filling with water), to using a plastic fine-tip syringe filled with water directed at small target areas. Finally, areas that still have resisted pigment removal can be carefully touched with a tiny watercolor brush, followed by a dip in a tray of clean water.
Although I often remove a little pigment here or there with a spray bottle or a plastic syringe, pigment removal with a brush should be considered a technique of last resort. It is very hard to achieve smooth, subtle pigment removal in a small area with a brush. If you find this step repeatedly necessary, it is best to go back and adjust your negative. Go into 'Actual Pixels', and with the 'Burn' tool, darken the negative enough to tenderize the area just a bit. A little experience will show you how dark to go, and whether or not you need to feather out the density towards the edges in order to avoid an unnaturally hard edge.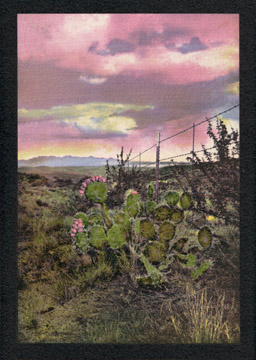 The creative opposite of selective pigment removal is selective pigment addition. Sometimes it's just not possible to get that one perfect color you visualize from your color set. This is where you by-pass your negatives and paint right on your print. You can apply any color mixed with gum and dichromate. Start with a practice print. It might take a couple of practice runs to determine the right ratio of pigment to gum and dichromate, plus the correct exposure time, but it's fun and very satisfying. And of course, this is the step you can use if what you are going for is a wild departure from realistic.
I painted the cactus pads with 'Sap Green' in gum and dichromate, followed by normal exposure and development.
A couple more tips:
1) Never, ever, unintentionally touch the surface of a wet print. The gum will come right off. After the print is dry, it's almost invulnerable, but an 'Oops!' second of carelessness while the newest gum layer is still wet can ruin a printing session. Remarkably, this trait is a powerful creative control tool. Selective removal of gum is my favorite part of the whole process. It reminds me that gum printing, for all the advantages of adding a computer to the process, is still a hands-on artisan craft.
I keep a piece of acrylic hanging from the drying line above my waterbath developing trays, with a water misting spray bottle, a plastic syringe and various brushes close at hand. After the last developing bath, if there are still areas of color I'd like to see less of on the final print, I pull the print out of the water and slap it gently onto the acrylic, being very careful to avoid touching the surface of the print. The water on the print holds it to the acrylic like a magnet. This gives me a nice flat print to work on — hanging vertically and safely at eye-level.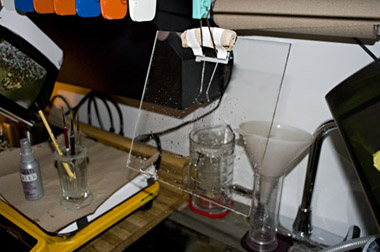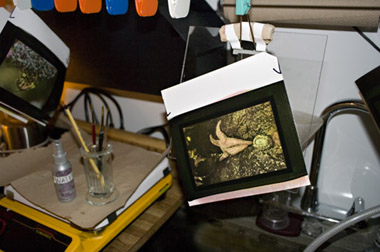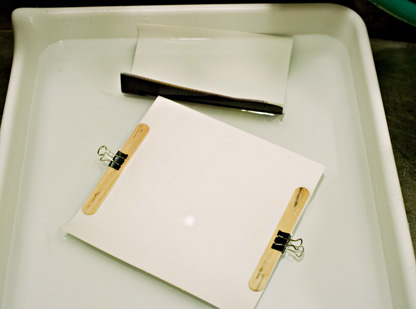 2) After four or five layers of color, a silvergum print can start to curl when it gets wet in the development trays. A curled print will head straight to the bottom of the tray where it will inevitably suffer contact damage. This is easily managed with wooden popsicle sticks and small binder clips. The print stays flat, and floating safe and sound on the surface of the water. Leave the popsicle sticks on while the print is hanging to dry.