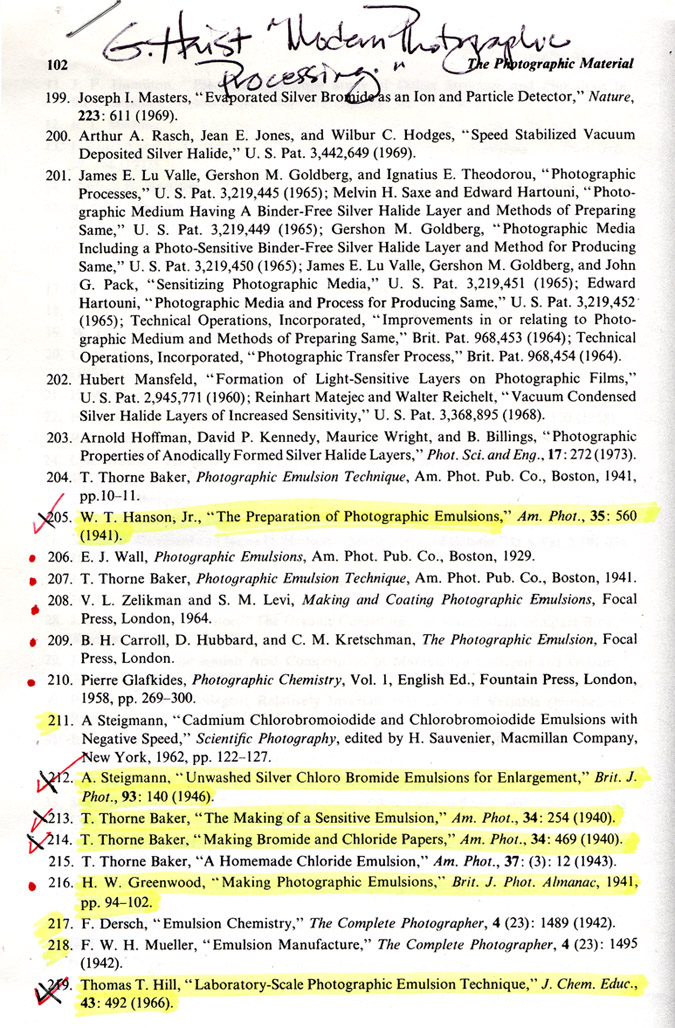 FOLLOWING BREAD CRUMBS — ARCHIVES ARCHEOLOGY
They've all been moved to the basement. Volumes that once knew the light of day are now packed into the Moveable Stacks; seemingly a half mile of shelves with no space between until a button is pushed and one stack after another slides glacially out of the way. Until there is room between to walk and search. The basement is so quiet, except for the groaning of the tracks, that it is easy to imagine oneself watching history pass by — otherwise unnoticed.
Everyone who has ever written a term paper knows the drill. Armed with photocopies of references, citations, and bibliographies, you are on a quest — a scavenger hunt to find either as many citations as possible or that one very important document. My Holy Grail a couple of months ago was to find "Laboratory-Scale Photographic Emulsion Technique," by Thomas T. Hill. Both the SPSE Handbook and Grant Haist seemed to lean heavily on it.
It's a treasure to be sure.
This article was "[P]resented before the Division of Chemical Education at the 150th meeting of the A.C.:S at Atlantic City, September 1965. In addition to being a consultant, the author [was] a lecturer at the Rochester Institute of Technology."
If your eyes start to glaze, make them pay attention again to the paragraph immediately preceding the citations.