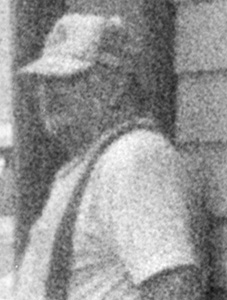 By the end of last summer, I'd run three kinds of handmade film through most of my dozens of film cameras (Curses, ebay!!) Long story short, I found that I loved 'X2Ag' in a 35mm camera. The grain is just right to become very pictorialist in a 6" x 9" print. My plans for the summer of 2020 were to travel and photograph — kinda street photography meets pictorialism. Of course, no travel in the summer of 2020.
I live in a tourist town. Like all locals in such places, I usually have a love/hate relationship with the hoards of tourists that can descend on "my" town. This summer, I just plain missed them. I missed the busy, crowded, happy hubbub and the funky joy of people who prefer chilly, foggy beach towns over sunny tropical beaches, mountains, or Vegas. We still had tourists, probably too many to be safe, especially because so many went unmasked, so I mostly stayed smart and stayed home.
I was searching my old negatives for one in particular when a realization slapped me upside the head. Color. For years I've hand-colored silver gelatin prints with dyes, first on Ilford Multigrade and now on my own paper, but that's a slow process. I was feeling too impatient for slow. Applying colored pencils to matte paper inkjet prints was perfect. The process has been a little addictive. It is not mentally taxing (to say the least!) so it fits well with Audible books. Playing with colored pencils (crayons for grownups) has turned out to be my best version of Covid mental health.
The collection so far: here